Author Archive
Being neurotic is a full time job.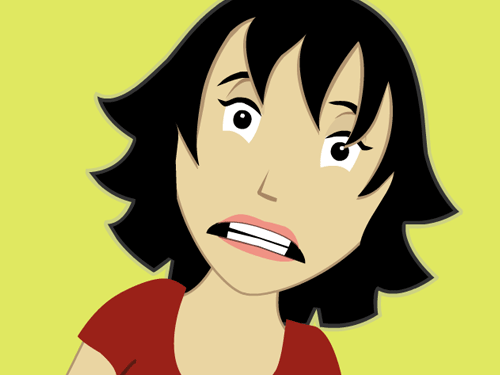 I should know.
I'm neurotic and
not ashamed to admit it.
It's just time consuming.
Growing up, I was an "odd" child and when the bipolar kicked in my neurotic nature grew exponentially. And being neurotic is tiring.  I've mellowed out a lot over the years, so people who like me call me "quirky." They don't notice my neurotic behavior so much. People who don't like me? Well let's just say that they call me something else. And they notice my neurotic tendencies all the time. It used to bother me. Now? Other people's opinions of me don't destroy my world.
Don't get me wrong… I am still very idiosyncratic and a lot of stuff sets me off. But I've had to learn how to define my boundaries. I needed to know where I stopped and other people started. I'm a firm believer in boundaries. Healthy boundaries can prevent so many problems. Just like good fences make for good neighbors, good boundaries work wonders in relationships. But it can't stop at merely having said boundaries. I need to know how to communicate them to other people because if I don't I end up angry. Then I react and end up feeling guilty. Then I do worry about what other people think because my behavior was so dodgy. If people step all over my boundaries because I haven't taken the time to express them… then whose fault is the resulting tension?
The other day I had to have a boundary setting conversation with a colleague who has been mashing my buttons pretty severely for two months now. It got to the point that I cringed when I saw her coming and was very abrupt with her when I couldn't avoid talking to her. I ended up feeling guilty for my rudeness and I'd come home mad. Then God and I would have really loud conversations about why this woman was pushing my buttons and why he (being God and all) should get her out of my orbit. Of course, God was going to do no such thing. I was either going to suffer in silence and complain to him at  home, or I was going to say something to her. Thing is… she's really sweet and wouldn't hurt a fly. Whereas I have no problems crushing flies and sending them, and any other critter that invades my space, into the hereafter. I didn't want to hurt this woman's feelings. She was tap dancing on the Bipolar Button and it was about ready to explode.
Everybody else on staff that I work with closely knows that I have Bipolar Disorder. First, because I'm not ashamed of it and people need to be educated about the many faces of mental illness. And second, because my disorder effects how I relate to people. I will have fewer meltdowns or blowups if people know the kinds of things that set me off. And it's stuff that people can easy accommodate… like I cannot process a lot of information at one time. I need small chunks of information and then time to process before expecting an immediate response. Or personal space issues. It weirds me out to no end to have people sit or stand right next to me or right behind me. I start to feel anxious and it gets hard to breath. Most people who know me respect that and literally give me my space. I can get positively ill if I feel caged in.
I was worried about the conversation because I'm not very tactful.
I've been stressing for two months now about what to say to her. Last night I was talking to God about it and he said I needed to apologize to her.  He'd said it before, but I'd chosen to ignore that because surely that wasn't God. I'm all for apologizing when I've done something wrong, but in this case I was the offended party. She owed me and apology.  Then God showed me exactly why I needed to apologize. My heart response to her was wrong even if she hadn't noticed how I was acting. Finally. God was going deeper than just working on my actions. He was working on my heart in a way that I could actually see it. I didn't develop some agape love thing for this woman, but I definitely did not want to do the whole bull in a china shop bit. Leading with an apology was the right thing to do even if she interrupted me and said I didn't need to apologize. (She did)
In the end, I'm glad I lead with the apology. I also started by asking her to let me finish and to hear me out before she said anything. She always interrupts me and never listens to me. Communication was at the heart of our situation. We have to work together. I'm not trying to change her. I was just trying to get her to hear and respect my boundaries. Her response was actually more than I could have hoped for. She totally heard me and we reached a place of understanding that I hope will keep channels open and clear communication flowing. She thanked me for being so blunt and straight forward. And I figure I shaved off six months of stressing out over this by finally listening to God.
What I'm learning is that all the striving in the world is not going to fix the things in me that make me so neurotic. And all the hiding that I do isn't going to heal that which is broken. It is weird to think that God put all the things that make me neurotic into my make up, but if he put it there he knows how to fix it. He will use difficult people and difficult situations to chip away at my neurotic ways until one day… I will stand before him, neurosis free. Now that really is comforting.